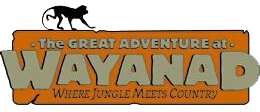 Beautiful and Enchanting Wayanad
The plantation district of Kerala, Wayanad is nick named "God's own garden". Once you visit this place you are bound to agree with this term. The eye catching water falls, tranquil fresh water lakes, spellbinding peaks, wildlife sanctuaries, emerald woods, historical monuments, places of pilgrimage etc, would reinforce the above said term. One can be sure that Wayanad is one of the reason for Kerala making into the list '50 must-see tourist destinations of the world' by National Geographic.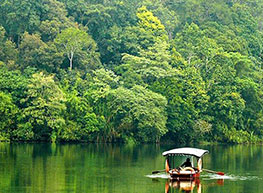 Pookode Lake (13 kms)

The fresh water lake nested above wooded hills, is the only one of its kind in Kerala. It is one of Wayanad's top visitor draws.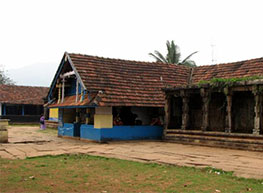 Papanasini- Thirunelly Temple (64 kms)

Known as the southern Kashi. A ritual dip here is believed to wash one away of worldly sins. The Thirunelly Temple is a fine specimen of classical Kerala temple architecture. The crystal clear waters of the Papanasini river running downhill add to the enchantment of the place.
Muthanga Wildlife Sanctuary (40 kms)

Spread over a vast area, Muthanga is part of the Nilgiri Biosphere Region. It's a rain forest reserve connected to two major sanctuaries-Bandipur National Park in Karnataka and Mudhumalai Sanctuary in Tamilnadu.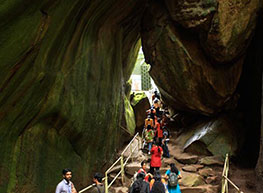 Edakkal Caves (28 kms)

Etchings found on the walls of these caves have drawn the serious attention of archeologists and historians worldwide. It is assumed that the Edakkal had been inhabited at various stages in history. A telescope installed by the DTPC that offers a panoramic view of the surrounding country is another attraction.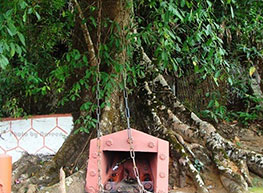 Chain Tree (16 kms)

Legend has it that an Adivasi youth named Karinthandan was instrumental in guiding the British Engineer through the difficult mountain terrain into Wayanad. Eager to take credit for the discovery, the engineer conveniently killed his guide, whose soul, according to the legend, constantly haunted subsequent travellers. It is believed that a priest chained the troublesome spirit onto this tree and hence the name the Chain Tree.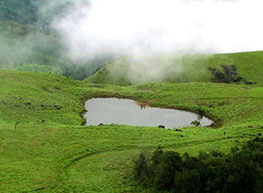 Chembra Peak (18 kms)

At 2100 metres, the spectacular Chembra Peak located towards the southern part of Wayanad is the tallest summit in the region. Climbing this peak is a challenging endeavour and would take a full day.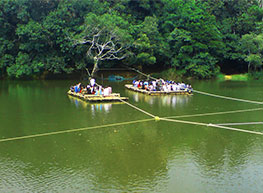 Kuruva Dweep (40 kms)

The Kuruva Island with 950 acres of evergreen forest lies on one of the tributaries of the River Kabini. This calm and peaceful island is home to a variety of birds, butterflies and orchids.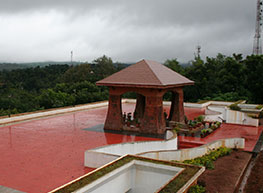 Pazhassi Raja's tomb (35 kms)

One of the earliest to strike the banner of revolt against the British overlordship in this part of India, Pazhassi Raja took refuge in the Wayanad hills, and resorted to classic techniques of guerrilla warfare against the superior British forces. He was downed in a ferocious encounter that took place at Mavilanthode in 1805. Pazhassi's tomb marks the point where he was cremated.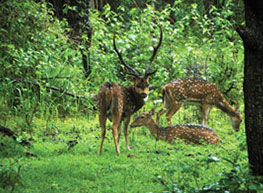 Tholpetty Wildlife Sanctuary (59 kms)

Situated along the northern ridge of Wayanad (bordering Coorg district of Karnataka) Tholpetty is much similar to Muthanga in terms of flora and fauna. The best season to visit is November and May.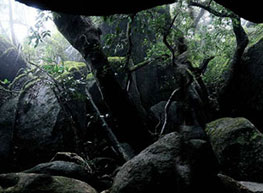 Pakshipathalam (71 kms)

Located deep within the forest in the Brahmagiri hills at an altitude of more than 1700 mts, Pakshipatalam is a formation of large boulders, some as tall as two storey buildings. The deep caves found here are home to a wide variety of birds, animals and distinctive species of plants.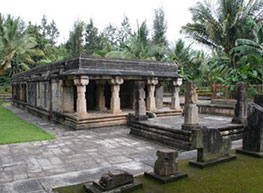 Jain Temple (24 kms)

This temple is one of the most important amongst a series of ruins spread across the state of Kerala that testify a period of strong Jain presence in this region. Believed to have built in the 13th century, it served as a Hindu shrine and eventually as an ammunition store for Tipu Sultan's marching armies.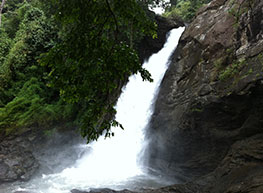 Soochipara Waterfalls (22 kms)

You can reach this breathtaking waterfalls only after a 2-km walk into the dense equatorial forest.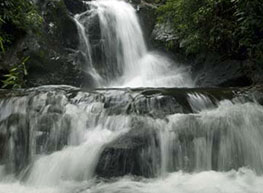 Kanthanpara Waterfalls (19 kms)

A beautiful waterfall about 30 mtrs in height. Relatively smaller than Sentinel Rock Falls, and rather less frequented Kanthanpara and its surroundings offer a very pleasant site.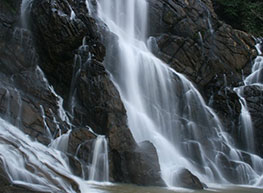 Meenmutty Waterfalls (29 kms)

An interesting 2 km jungle trek off the main Ooty Road, Meenmutty is the largest and most spectacular waterfall in Wayanad. A unique feature is that water drops about 300 metres over three stages.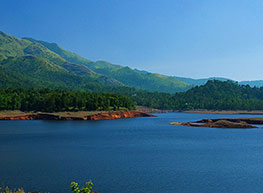 Banasura Sagar Dam

Considered to be the largest earth dam in India, the Banasura project precincts are an ideal starting point for treks to the Banasura Peak. An interesting feature is a set of islands that were formed when the reservoir submerged the surrounding areas